Broaching machine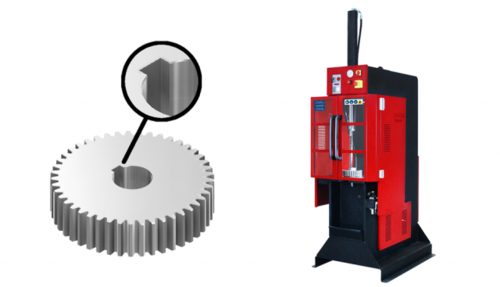 Broaching machine
Price And Quantity
Product Specifications
Broaching machine

Hydraulic
Product Description
Hydraulic Broaching machine BM25 NARGESA has been fabricated in a welded and mechanized steel mono block. It is a machine useful for making notches and keyways in all kinds of pieces: sprockets, pulleys, gears, etc...
It is also used like a press to unbolt oxidated parts, assemble and dismantle bearings, etc...
Technical features
The Vertical Broaching machine BM25 has been thought for small medium productions, it is characterized by its great versatility, reliability, and fast setting up.
VERSATILITY: It is used for making small and big pieces. All kinds of broaching and different tolerances. 2 mm keyways from 2 up to 25 mm or 1inch.
RELIABILITY: Due to its way of using the keyway is always made with the required tolerance.
EASY USE:
Anyone can make a keyway, there is no need to be a skillful operative.
FAST SETTING UP: The preparation time of the machine before making a broaching operation is approximately 1 min.
ADVANTAGES: The machine can be moved easily next to a lathe or machining center. While those machines work, the same operative can make the broaching operation.
The broaces we offer are one of the best trademarks in the market, internationally speaking. They are manufactured under strict quality controls, guarantee higher liability and durability, Made in the USA. Some shims are provided with each broach, the ones used for accomplishing the required tolerance.
Broaches in millimeters and inches.
Broaches of different kinds and tolerances: ISO J-9, ISO P-9.
Characteristics of the machine:
Motor power: 2,2 KW / 3 Hp.
3-phased tension: 230/400 V.
Hydraulic power: 10 Tons.
Max. broaching capacity: 25 mm.
Working speed: 24 mm/s.
Return speed: 54 mm/s.
Pump Flow 7,5 Liters.
Shank displacement: 600 mm.
Gooseneck: 300 mm.
Max. piece diameter: 600 mm (For different sizes, please ask the manufacturer)
Bench dimensions: 420 mm X 420 mm.
Lower bench palletized to move the machine easily to the working site or storage.
The machine is delivered completely assembled.
Packing with retractile film.
Optional complete wooden packing NIMF15.
Its versatility, reliability, productivity, and easy handling make it one of the best machines for a maintenance workshop or medium production factory. By medium production, we mean less than 350 units.
All our products are manufactured in our facilities in Spain. Hydraulic and electronic components are completely standard from the best European leading trademarks, with technical support all over the world: Rexroth, Bosch, Roquet, Schneider Electric, LG, Telemecanique, Pizzato, etc...
All Nargesa products are according to the CE normative and regulations for manufacturing industrial machinery.
Trade Information
Asia, Australia, Central America, North America, South America, Eastern Europe, Western Europe, Middle East, Africa

All India