Horizontal Press Brakes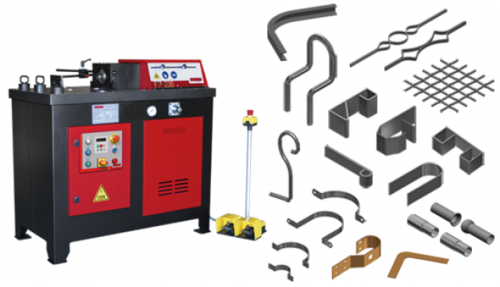 Horizontal Press Brakes
Price And Quantity
Piece/Pieces

1000.00 - 10000.00 INR
Product Description
This meticulously designed Horizontal Hydraulic Press Machine NARGESA PP200 is useful to forge different types of machine components. This system is compatible with all types of metallic objects like rods, profiles, flat bars and pipes. This equipment simplifies forging of wrought iron. It can maintain higher precision during bending of machine components when compared to other types of bending equipments. This Horizontal Hydraulic Press Machine NARGESA PP200can maintain maximum 180 degree fixed radius during bending of metallic objects. It can also be used for reducing and stretching of pipe ends prior to their welding. With this machine, procedures like punching, piercing and cutting of profiles, sheets and bars become quite easy. This equipment process to be useful for bending of various profiles by maintaining various radius without affecting straightness of their ends. This equipment is especially useful for maintaining design precision during production of flanges and handles. It can maintain 90 degree angular direction during notching of pipes. It adopts cold forging technology to attain various shapes of balosters. Versatile nature and user friendly mechanism of this machine deserves praise. Its design conforms to CE specifications.
Technical Features
This equipment has been produced from 60 cm thick steel monoblock that has been welded and mechanized. Notable for its sturdy construction, this machine is appreciated for its high output. This system has several advantages that include:
Ease of handling: Available in fully assembled structure, this machine can be attached to the power sources easily for trouble free starting.
Multi-purpose role: This machine is offered with numerous additional tools (go through the bottom of the page in optional tooling section).
Ease of handling of tooling: With this machine, anyone can himself or herself produce punches and dies.
This machine can be used for folding jobs without affecting dies and punches.
Offered equipment can be used for handling of metal sheets and flat bars in closed shapes. This high performance system deserves praise for its advanced features.
The operator can change its dies, punches and other tools without any delay. It requires hardly 30 seconds to change these components.
STANDARD TOOLING: This machine is equipped with complete set of 4Vs folding die ( mentioned in the bottom of the page of standard accessories).
Technical Caracteristics of the Horizontal Hydraulic Press Machine
Working strength: 20.000 Kg (200 KN).
Working speed: 10 mm/s.
Return speed: 35 mm/s.
Maximum displacement: 250 mm.
Repetitivity: 0,05 mm.
Bench size: 600x1170 mm.
Working height: 950 mm.
Programming mode: Manual or Automatic.
Safety Double acting hold pedal.
Mechanically Guided Piston.
Piece counter.
Pressure regulator.
Engine power: 2.2 KW/3 HP a 1400 r.p.m.
Electric Tension: 230/400 V three-phased.
Intensity: 9/5 A.
Hydraulic pressure: 50 a 215 Kg/cm2.
Hydraulic pump: 7,5 litres/minute.
Tank Capacity: 27 litres.
Dies support shelf included.
Machine dimensions: 760x1174x1150 mm.
Weight: 625 Kg.
Consists of pallet equipped lower bench to simplify its relocation process to storage or working section of factory
This machine is packed in wooden pallet which is covered with three layers of cardboard for its safe transportation by sea freight.
This machine is delivered in assembled form.
Our products have been produced in our well equipped production unit in Spain. Electric and hydraulic parts of our equipments are of premium quality and these belong to renowned brands like Schneider Electric, Rexroth, LG, Pizzato, Telemecanique, Roquet and so on.