Hydraulic Shear C3006 CNC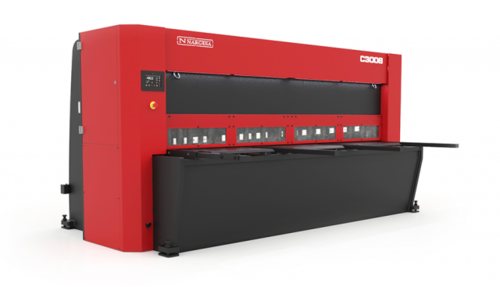 Hydraulic Shear C3006 CNC
Product Description
The latest generation CNC Vertical cut shears NARGESA, are made of stabilized, welded steel that allows to stand big efforts without deformation.
Cutting length: 3030 mm. Max. thickness in steel: 6mm. Max. thickness in Stainless Steel: 4 mm.
All Nargesa products are according to the CE normatives and regulations for manufacturing of industrial machinery.
Technical features
The last generation of NEW CNC vertical cutting Shears C3006, allows to cut any type of metal in a clean and accurate way. Vertical cut shearing is a lot more precise and with its consequent lower energetic expense and cost of the blades.
The main advantages of the vertical cut in comparison to the swing cut are:

Energetic saving
Resistance of material in vertical cut is much lower, which becomes a considerable energetic saving.

Cutting quality
Clean, perfect and accurate cut.
Life of the blades
The blades wear is almost nule. The life of the blades is 4 times higher than other shearing systems.
The C3006 CNC Shear is supplied as standard with the following components:
High resistance structure
One block bench, mechanized, equipped with spheres to ease up the movement of the sheet.
Initial support machined to square of 1000mm with millimeter scale.
Three 1000mm millimetered stand arms.
LASER lightning on the cutting line.
LED front lightning.
Front polycarbonate protection screens that allow to see the cutting line.
Cutting of narrow strips without distortion.
4-cutting edged upper and lower blades, with 90 angle, long lasting and the proper ones for cutting of steel.
Driving with safety pedal and emergency stop.
Back overture with safety optoelectronic devices.
Low noise level, improving the quality of work of the operator.
Ramp of material extraction located in the lower part of the cutting zone allows the material to slide down to the extraction area.
Cutting length: 3030 mm.
Cutting capacity: 6 mm in steel (450N/mm2) andy 4 mm in S.S.(700N/mm2).
Gauge displacemnt: 700 mm.
Goose neck for cuts with bigger length: 173 mm.
Strokes per minute: 12 Strokes. (All length).
Hydraulic rammers: 15 units.
Fix cut inclination: 1,75.
Motor power: 9,2 KW / 12 CV.
3-Phased tension: 230/400 V. 50/60 Hz
Hydraulic Pump: 22 liters.
Container capacity: 96 liters.
The machine is delivered completely assembled.
Precision rear gauge
Rear gauge fixed to the structure.
Accuracy and repeatability of positioning from +/- 0,1mm.
Low maintenance thanks to the use of low friction elements.
ESA S625 compact CNC
The control interface is very intuitive and easy to use.
Internal database of materials.
Configuration of the piece length by the CNC.
Enhanced hydraulic group
Automatic regulation of the cutting pressure depending on the need for cutting power.
Automatic regulation of the pressure of the sheet fastenings.
All our products are manufactured in our facilities in Sapin. Hydraulic and electronic components are completey standard from the best European leading trademarks, with technical servie all over the world: Rexroth, Bosch, Roquet, Schneider Electric, LG, Telemecanique, Pizzato...